Sketches in the Ruins of My Mind
Federal Express - when it positively must be stolen overnight
Before readers from the UK laugh too much at this amusing slice of "American gun culture," in the late 70s I served with two sergeants who were subsequently imprisoned for diverting ammunition from military stocks to Loyalist terrorists in Northern Ireland. That affair never made it into the press. Where do you think terrorists get their military weapons other than from some government or another?
---
Dateline: 28 October 1997

Author: Johnny Brandon <johnny@speedy.ehs.uiuc.edu>
Five US Marines were taken into custody on Friday 17th October 1997, suspected of hiding extra explosives from training exercises and seeking out buyers. Federal agents acting as middlemen bought the stolen explosives and then sold them to gun enthusiasts searching for greater firepower.
Fourteen people suspected of trafficking military explosives were arrested Thursday. Six of the suspects were Marines, although one was released and returned to his unit.
The arrests were part of an ongoing eighteen-month investigation dubbed "Operation Longfuse" into the theft of military weapons, including rocket launchers, machine guns, mines, mortars and grenades. Much of the ordnance was stolen from Camp Lejeune, a US Marine Corps base in eastern North Carolina.
Charges are pending against the Marines. The eight civilians - all from North Carolina - were charged with a variety of federal crimes for allegedly manufacturing and selling military explosives and hardware.
The Federal Bureau of Investigation (FBI) and the Department of Defense (DOD) admit that they believe that this particular group have been in business for more than two years.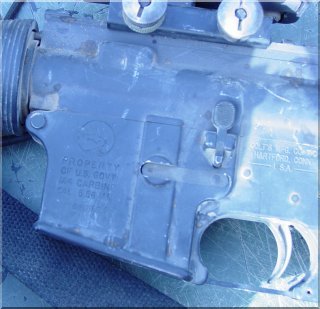 DOD also admits that random spot checks of the armories at Camp Pendleton and Fort Bragg indicate that M16s may be missing from the two bases along with "significant" [?] stores of ammunition. The Pentagon mouthpiece stated that the top brass are considering a formal audit of all DOD small arms inventories. This is hilarious! Imagine the Army, Navy, Air Force, Marines, Coast Guard, and the National Guard attempting to account for all of the small arms & ammo supposedly on inventory. (Think what it will cost in man-hours.)
So much for "gun control".
This received very little coverage in the mainstream national media. It appears that only National Public Radio (NPR) and the Washington Post are providing any in depth coverage of this story.
For quite some time (since the late 70s) National Guard units have not been trusted with ammunition. National Guard armories keep on hand very limited quantities of ammo. In fact, friends who are members of the National Guard tell me that it is impossible to get adequate amounts of ammo for their annual (two week) training camp and that the few times they have been called up to "provide order and protect property" during urban riots (or natural disasters) they were issued just five rounds for their M16s.
Theft of rifles, handguns, and ammo from US military bases is a common problem. This incident goes beyond the routine as it is seldom reported (or heard via the grapevine) that mortars and mines and Stingers have been stolen.
As one might predict, there is no sign of any follow up information in the media. I've asked my representative (a Republican) to keep me informed of the government's investigation and I've also requested that the local NPR station investigate the incident. Now where did I leave that Stinger...
---